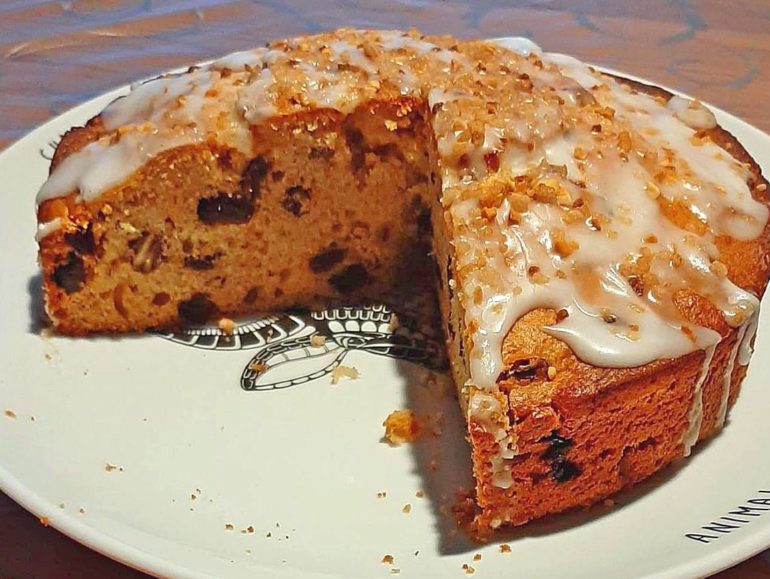 This cake is wonderfully moist and fluffy, a perfect example of apple sauce as an egg replacer (and a perfect way to use up leftover applesauce). The walnuts give it a lovely flavor and crunch, but the cake still tastes good if you leave them out. If you want to make this cake a little more substantial and healthy, use half whole wheat flour. For a more decadent result, use all purpose flour only.
It's loosely based on a recipe from 100 Best Vegan Baking Recipes by Kris Holechek, the first vegan baking book I ever bought and still cherish, because the recipes are so good. I'm surprised this book doesn't have a lot more fans! The photo above was taken by one of my readers Inez. She added some raisins and topped the cake with icing and chopped nuts. Super tasty!
Ingredients
1 cup all purpose flour
1 cup whole wheat flour (or more all purpose)
3 teaspoons baking powder
1 teaspoon cinnamon
1/4 teaspoon salt
3/4 cup of sugar
1/3 cup neutral tasting oil
1 cup of applesauce
1/4 cup non-dairy milk
1/3 cup chopped walnuts
1/3 cup raisins (optional)
Preparation
Preheat the oven to 180 C or 350 F degrees.
Combine the flour, baking powder, cinnamon and salt in bowl. In another bowl, mix the sugar, oil, applesauce and milk. Add the dry ingredients to the wet and stir briefly with a whisk until most of the lumps are gone. Now add the walnuts and raisins if using.
Pour the batter into a 22 cm /8 inch round pan or a rectangular loaf pan and bake the cake for 50 minutes until golden brown and a toothpick comes out clean. Let cool completely before removing it from the pan. It's delicious as is, but you can decorate with an icing of powdered sugar and lemon juice if you like.