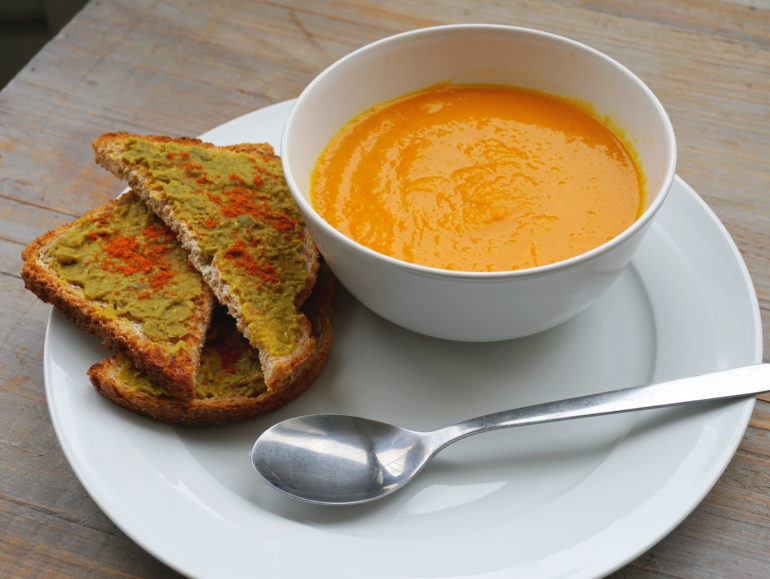 I'm working on a new series of budget recipes. If I shop smart, this entire meal of soup with toasted bread and the lentil spread costs me about 1 euro (just over $1), for 4 servings! The entire meal can be on the table within half an hour.
The carrot soup is deliciously sweet, fresh and spicy. It pairs so well with the crusty bread and lentil spread that I would happily serve this on my birthday and let my guests guess the cost (maybe you have to be Dutch to enjoy stingy birthdays).
Part of what makes this recipe so cheap is that I cook my own lentils from dry. Thankfully this is super easy. You can put them straight from the bag into boiling water and simmer for 30-45 minutes until soft and cooked through. Or, to save even more, you can pre-soak them in cold water for 6-12 hours, and then the cooking time is only 5 minutes! I prefer this method also because the lentils cook more evenly and don't fall apart as much. I usually cook 500 grams of dry lentils at a time, and freeze them in reused jars. Then it's just like having canned lentils in stock, you only have to quickly thaw them before use.
Carrot-ginger soup
2 onions, chopped
1 tablespoon oil
500 grams of carrots, cubed
750 ml water
1 heaping teaspoon dry powdered ginger
1 heaping teaspoon curry powder
1/2 teaspoon garlic powder
1/2 teaspoon salt
1-2 tablespoons lemon juice or vinegar
In a medium sized soup pot, sauté the onions in the oil on medium heat until translucent. Add the carrots and water and bring to a boil. Simmer gently for 10-15 minutes until the carrots are tender. Now add the spices, salt and lemon juice. Puree the soup with a blender or immersion blender. Taste for seasoning and add a little more spices if you like.
Toast with lentil curry spread
6-8 slices of whole-wheat bread (use gluten free bread for a gf option)
1 1/2 cup (1 can) cooked brown lentils, drained
1 tablespoon olive or canola oil
1-2 tablespoons lemon juice or vinegar
2 teaspoons curry powder
1/2 teaspoon salt (or to taste)
1 teaspoon soy sauce (optional)
Toast the bread slices in a toaster or skillet. Add the remaining ingredients to the jar of your food processor, blender or immersion blender en puree into a spread. It's okay if a few lentils are left whole, that actually looks nice and rustic. Top the bread with the lentil spread and serve with a cup of soup.