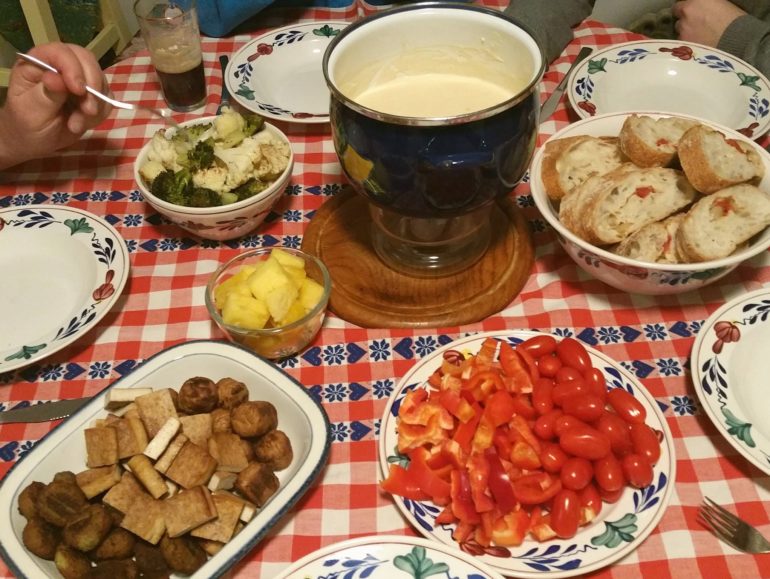 This fondue is a holiday favorite on all sides of our family, vegan or not. It's super creamy and savory and surprisingly quick and easy to make. Just put all your ingredients in the blender, purée and then cook to thicken the sauce. Tapioca flour gives you the best 'stretch', but potato or cornstarch will also be fine.
You can serve the fondue with just bread for an appetizer or snack, but to make it a full meal you can also put vegetables and plant-based proteins on the table. Almost anything is delicious dipped in the rich cheese sauce. Some of my favorites that you can see in the pictr are steamed or roasted broccoli and cauliflower, raw cherry tomatoes and bell peppers, fresh pineapple, baked tofu and vegan meatballs.
The inspiration for this fondue comes from Miyoko Schinner's book Artisan Vegan Cheese. If you are interested in making vegan cheese, I can definitely recommend Miyoko's book!
Ingredients
2 cups unroasted cashew nuts, soaked and drained
2 tablespoons of vinegar or lemon juice
2 tablespoons neutral flavored oil (optional)
2 tablespoons nutritional yeast flakes
1-2 tablespoons white/shiro miso
1 teaspoon salt
1 cup white wine (use veggie broth for alcohol free fondue)
3 tablespoons tapioca flour (or potato- or cornstarch)
Preparation
Add all the ingredients to the jar of a powerful blender or food processor and blend until the cashew nuts are completely smooth and all the grainy bits are gone. Depending on the strength of your machine, this could take up to a few minutes.
Pour the cashew cheese mixture into a fondue pot with the white wine and slowly bring it to a low simmer while stirring constantly. Cook the fondue until it is thick and shiny. If necessary, thin the sauce with a little more wine or water. Serve with bread, steamed or roasted vegetables and meat alternatives of your choice.