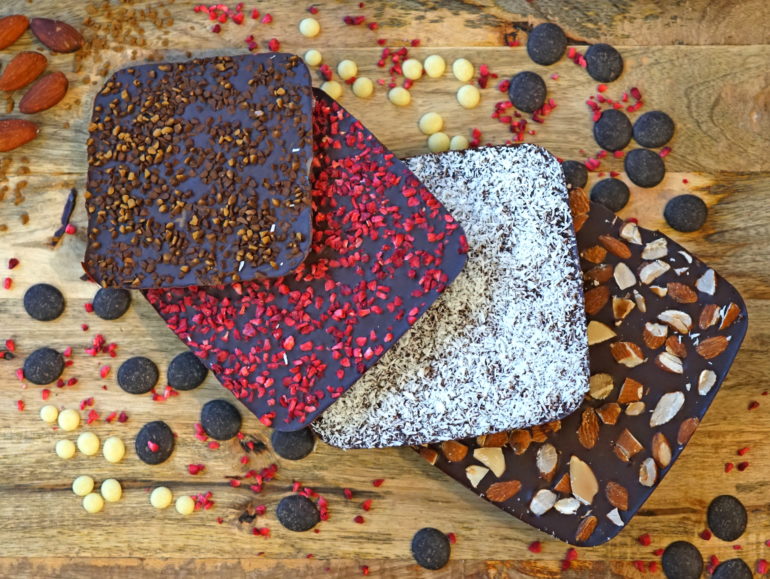 David and I both really love chocolate (a little too much), so with some New Year's resolutions that we're determined to stick to eat less sugar, I took another look at the sugar-free options out there. Well, that was disappointing. Actually, only super dark (and therefore bitter) 100% chocolate is really completely sugar-free. There are 'sugar-free' chocolates sweetened with sugar alcohols, such as maltitol. Those are not the best for the digestive system and are still converted into sugar in your body.
Fortunately, making your own sugar-free chocolate is a lot of fun and not difficult at all. You can come up with all kinds of variations that are not for sale in the store sugar-free. The ones in the picture are made with salted almonds, peanuts and coconut flakes, raspberry crunch and coffee caramel flavor. I've also made 'after eight' flavored chocolates by adding peppermint extract. Several people have tasted my chocolates and everyone loves them. A friend even said she thought they were some of the best chocolates she'd ever tasted!
The base for this homemade chocolate is 100% chocolate, also known as chocolate liquor, cocoa mass or raw chocolate (make sure it is absolutely unsweetened!). You may be able to find this at your local supermarket, but it will be pricey. If you plan to make chocolate more often, it pays to order it in bulk online. I like the brand Callebaut. While you're at it, also order a bag of cocoa butter chips. Finally, I like to add some nut butter to make the dark chocolate taste a bit milder and creamier.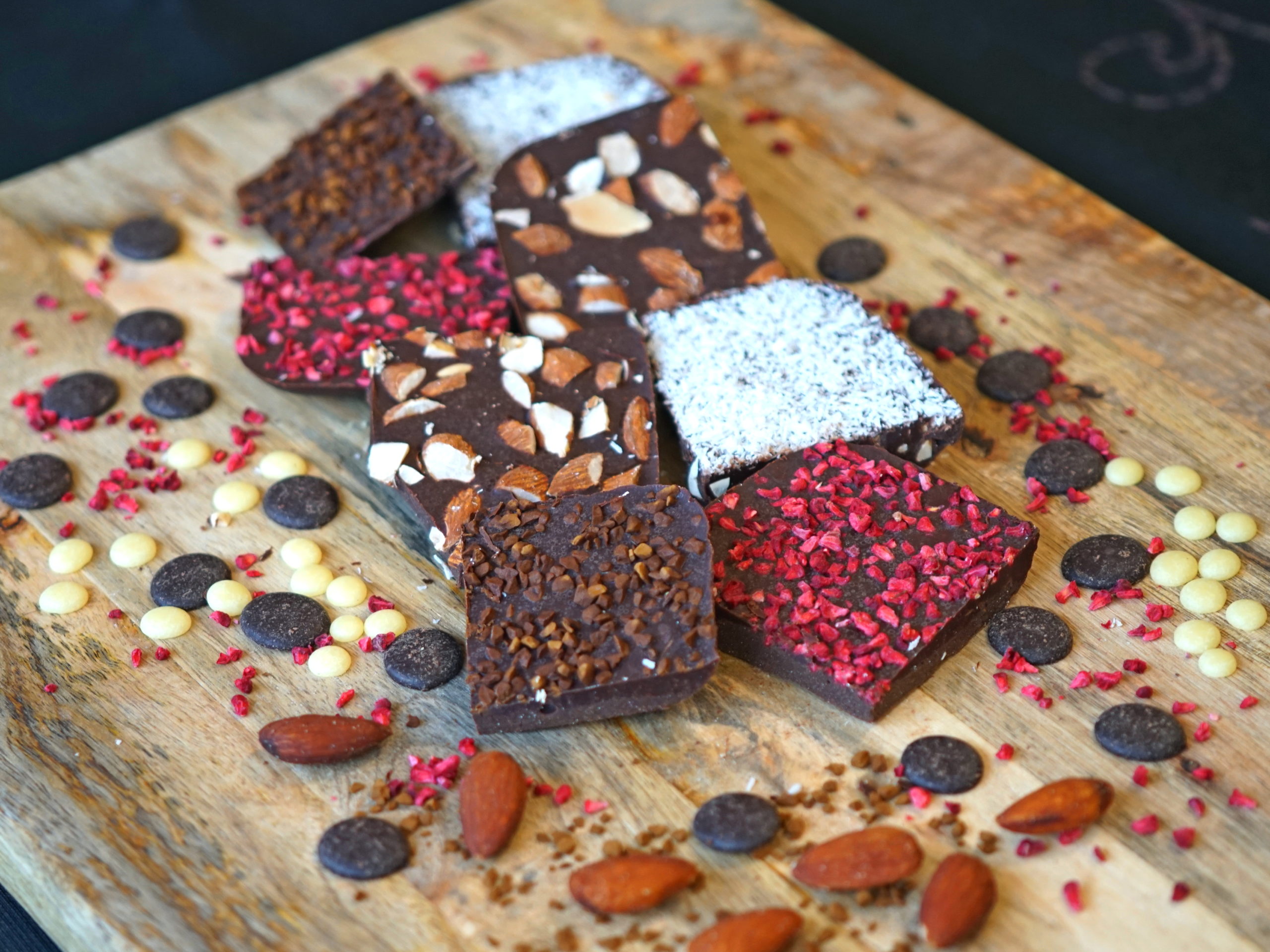 Ingredients
80 g 100% chocolate
40 g cocoa butter (or coconut oil)
30 g almond or hazelnut butter (optional)
1/4-1/2 teaspoon liquid sweetener (stevia or liquid Splenda), to taste
1/4 teaspoon vanilla, caramel or mint extract (optional)
Toppings: salted or unsalted nuts, coconut flakes, chili, freeze-dried fruit, instant coffee (optional)
Preparation
Weigh the cocoa mass and cocoa butter, and set aside about 1/4 of each. Melt the remaining cocoa mass and cocoa butter, together with the sweetener, nut butter and flavoring (if using) in a bowl over a bain marie or in the microwave. Remove the bowl from the heat source when everything has melted.
Add the 1/4 cocoa mass and cocoa butter that you saved earlier. This now melts from the residual heat of the molten mixture. Doing this tempers the chocolate, so it will develop a nice sheen and snap as it cools down and solidifies. Mix everything well and and taste for sweetener.
If you want to add nuts, dried fruit or coffee, you can mix them into the melted chocolate now. Another option is to sprinkle them over the chocolate in the mold later, so that they are visible on top (as in the picture).
Take a plastic container of about 15x15 cm with a smooth bottom (or use a real chocolate mold). Pour the melted mixture into the mold and let it flow into all the corners. Sprinkle with toppings of your choice.
Allow the chocolate to set in a cool place (preferably not in the fridge, because it is susceptible to condensation). After a few hours, the chocolate will set completely. Hold the mold upside down and gently push on the bottom to release your chocolate bar. This chocolate will keep for at least a month in a sealed container.
A Dutch version of the recipe can be found here.