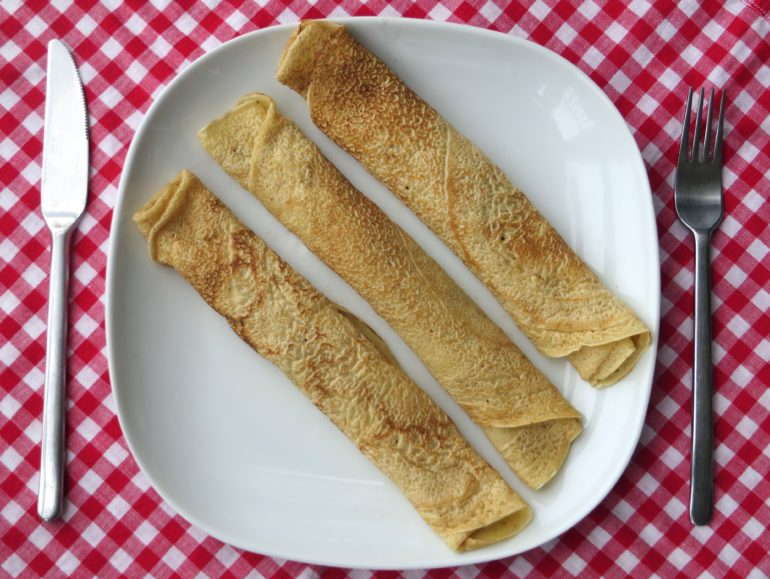 In the Netherlands we have our own special type of pancakes. Dutch 'pannenkoeken' are much bigger than American pancakes, but thicker than French crêpes. Even people who say they 'can't cook' usually know how to whip up a batch of these pancakes. When you don't want to make your own, there are specialized pancake restaurants where you can pick from dozens of toppings varying from apple-cinnamon and mushrooms with bacon, similar to a pizza restaurant. If you're lucky, they might be willing to whip up some vegan batter, but it's super easy to make your own!
You can make these pancakes with just wheat flour, plant milk and a little salt, but I almost always add some chickpea flour to my batter. This provides more protein and gives the pancakes a nice subtle 'eggy' yellow color. I like to buy my chickpea flour from our local Asian ethnic store, which has a lovely finely ground texture for a cheap price.
Like a true Dutchie, I usually make pancake batter intuitively and don't really measure the ingredients. If you make this recipe once or twice to get an idea of ​​what the batter should look like, and how it cooks, you can make endless variations. For instance, if you're into whole grains, try a combo of chickpea and buckwheat or rye flour.
I often get questions from people who have trouble making vegan crêpes or pancakes. Here are a few tips to make sure it goes smoothly. (1) Make sure you have a good non-stick skillet. (2) Make sure your pan is hot. This is especially important for crêpes without eggs, because they often need a slightly higher temperature. Pre-heat your pan very well before you pour in the first batter. Also, don't be too hasty to turn the pancake. Give them time to fully cook so they release from the pan. (3) Grease the pan well. I usually use peanut or rice bran oil because they have a high smoke point. You do not have to use a lot of oil, as long as the oil is well distributed. I use a piece of oil soaked paper towel and rub the skillet before I pour in the batter for each pancake. Even with all these precautions, your first pancake might not turn out. Don't fuss about it and try again until you get the hang of it!
Ingredients
1 1/3 cup (200 g) all-purpose flour or whole wheat flour
2/3 cup (100 g) chickpea flour
1/2 teaspoon salt
1 cup (240 ml) non-dairy milk
1 1/2 cups (360 ml) water
Bake-on toppings like apple or banana slices, pineapple, mushrooms, onion, vegan cheese and bacon (optional)
Toppings of your choice (syrup, brown sugar, jam, nutella, fruit etc.)
Instructions
Mix the all-purpose flour, chickpea flour and salt in a bowl. It's a good idea to sieve the chickpea flour, because it often clumps, causing a lumpy batter. Gradually add the water, stirring with a whisk until a smooth runny batter forms. Add a little extra water if the batter seems too thick.
Let the batter rest while you preheat a skillet pan over high heat until it is very hot. Pour a dash of oil in the pan and spread it with a folded piece of paper towel. Save the greased paper towel for the next pancake.
Pour a ladle of batter (about ½ cup) into the skillet and turn it so the batter flows to cover the bottom and forms a large round pancake with a thickness of 2-3 mm or 1/8 inch. Let the batter cook for a minute or two and then carefully check with a spatula under the edge whether it has released and is turning brown. Be patient, it may take a while for the pancake to be ready to be flipped, especially the first time, when the pan may not be hot enough yet. Carefully loosen the pancake with the spatula and flip it over. Let the other side cook for another minute until it also has brown spots and move the pancake to a plate. Grease the pan again and continue making pancakes and stacking them onto the plate until the batter is used up.
If you want to make restaurant style pancakes with baked-on toppings, either fry the toppings in the pan first and pour the batter over them, or pour the batter in first and add toppings before the batter sets. With this second method, the toppings will cook after you flip the pancake.
Serve the stack of pancakes with your preferred toppings. Traditional options include jam, syrup, brown sugar, Nutella and fresh fruit. You can eat the pancakes flat, using a fork and knife, or roll them up and eat them with your hands.