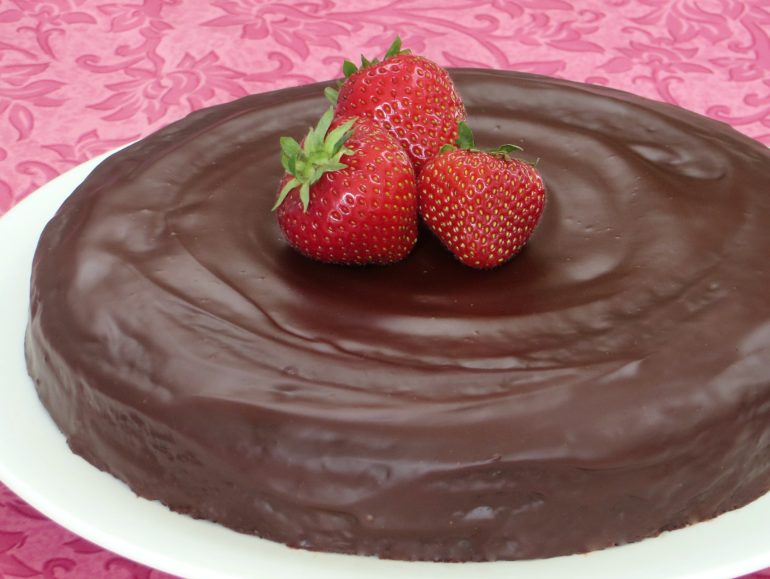 I love how easy this vegan chocolate cake is to make, while still looking really nice with it's smooth layer of chocolate ganache. Perfect for when you don't have a lot of time (or a lot of baking experience), but still want to impress. It's also really tasty, especially if you add the optional layer of jam in the center. I've made it countless times, for birthdays and other festive events.
There are no special ingredients, you can get everything at your local supermarket. If you'd like to make a gluten free version, just replace the all purpose flour with a gluten free baking mix. The recipe is inspired by the 'Just Chocolate Cake' from my one of my favorite cookbooks, Isa Does It by Isa Chandra Moskowitz.
Ingredients
For the cake
1 cup (140 g) all purpose flour
1/2 cup (60 g) cocoa powder
2 1/2 teaspoons baking powder
1/4 teaspoon salt
1 cup (240 ml) plant milk
1 cup (200 g) sugar
1/3 cup (80 ml) oil (sunflower, canola or mild olive oil)
1 1/2 teaspoons vanilla extract (or 1 sachet vanilla sugar)
Optional: 4-5 tablespoons jam (strawberry, raspberry or blueberry)
For the ganache
1/3 cup (80 ml) plant milk
125 grams dark chocolate
Instructions
Make the cake
Preheat the oven to 180 C / 350 F. Grease a 22 cm / 8 inch springform pan with oil or margarine.
In a bowl, mix the flour, cocoa, baking powder and salt. In a second bowl, whisk together the soy milk, sugar, oil and vanilla. Add half of the dry mixture into the wet and stir with a whisk or spoon. Now also add the second half of the dry mixture and stir into a smooth batter. A few small lumps are okay.
Pour the batter into the greased baking tin and place in the center of the oven. Bake for 30 to 35 minutes until a tester inserted through the center comes out clean. Remove the cake from the oven, let it cool completely and then carefully remove it from the mold.
If you want to add jam filling, cut the cake into two layers, spread jam on the bottom layer and place back the top layer.
Make the ganache
Heat the soy milk in a small saucepan. Turn the heat to low and add the chocolate. Remove the pan from the heat and stir with a fork until the chocolate has melted and fully dissolved. Let the mixture cool and set for 15 to 20 minutes. Pour the slightly thickened ganache over the cake and spread with the back of a spoon. Place the cake in a cool place (or in the fridge) to allow the ganache to fully set. Cut the cake into small pieces and serve with fresh fruit and a dollop of vegan whipped cream.