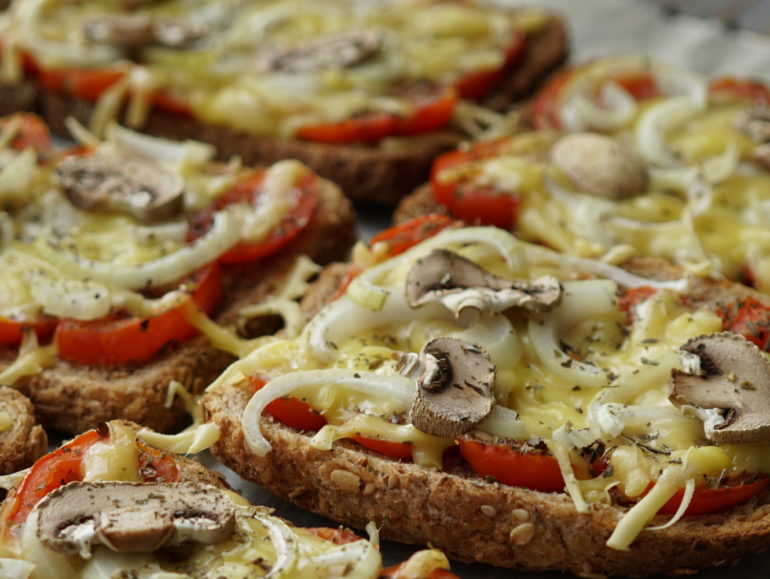 When my husband was a kid, his family liked to eat this pizza with bread slices for the crust. It's super easy to make and very budget friendly! We made this childhood classic again recently and we liked it so much that I'll add it to the regular rotation. It's super quick and easy to make and if you use wholegrain bread, it is also healthier than a traditional white flour pizza crust.
Just like with a regular pizza, you can make endless variations with the toppings. We kept it simple with slices of tomato, vegan cheese, onion, mushrooms and Italian herbs. For the cheese I like to use 'Violife for pizza' that I grate myself. To make it cheaper you could also use homemade cheese sauce, such as this ##'mozzarella' or this yellow cheese sauce##.
Ingredients
6-8 large bread slices, preferably whole grain
2-3 tomatoes, sliced
100-150 g (3-5 oz) vegan cheese, grated
1 onion, in thin rings
4 mushrooms, thinly sliced ​​(optional)
1 teaspoon of dry Italian herbs
Instructions
Preheat the oven to 200 C / 400 F. Line a baking tray with parchment paper and place the bread slices on it. Top each slice with the cheese and vegetables (the cheese melts much better if it is covered with vegetables) and sprinkle on the Italian herbs.
Place into the oven and bake for 15-18 minutes until the vegetables are cooked and the cheese has melted. Allow to cool slightly and serve.