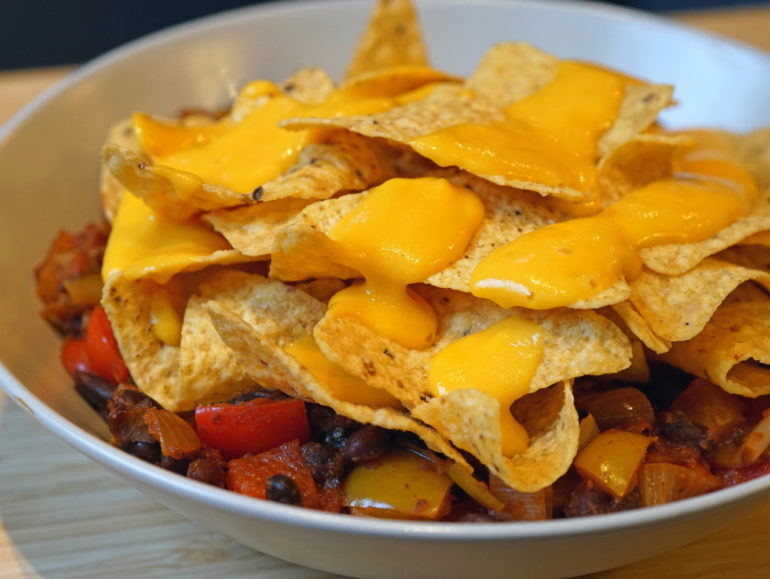 When I first saw vegan cheese recipes with carrots and potatoes as the main ingredients, I was very skeptical. But then I tried some at a potluck and was blown away by how cheesy this stuff tastes! I now use it on everything, from cauliflower to lasagna, and of course on my loaded nachos.
My recipe is based on the original mother of all potato-carrot cheeses over at Veggie on a Penny. It's very quick and easy to make. Just boil the veggies, throw them in the blender with the other ingredients and boom you're done! If you're also making the nachos, the cheese sauce can be done by the time the salsa is done simmering. The cheese also freezes well, so feel free to make a double batch. After thawing, reheat and stir it really well, adding some water if needed to thin it out.
If you want to make the loaded nachos with even less work, replace the vegetables with one or two jars of Mexican salsa. Just reheat it for a while and then mix in the beans. That way the nachos can be on the table in 15-20 minutes. This is a super kid-friendly meal or snack that's also gluten and soy free, so it's great to serve to picky eaters and people with allergies and intolerances. The quantities below serve 2 people for lunch or dinner or 6 people as a snack.
Ingredients
For the chili
1 tablespoon oil
1 onion, minced
2 bell peppers (red, green or yellow), diced
1 leek, sliced (optional)
1 garlic clove, crushed
1 can diced tomatoes in juice
3 tablespoons tomato paste
1 teaspoon hot sauce or sriracha
1 teaspoon (smoked) paprika powder
1 teaspoon ground cumin
1/2 teaspoon dried oregano
1 can black beans, drained (or 1.5 cups home-cooked beans)
salt to taste
100 g tortilla chips
For the cheese sauce
150 g (1 cup) potato, peeled and cubed
70 g (1/2 cup) carrot, peeled and cubed
60 ml (1/4 cup) water (+ extra to cook the potato and carrot)
2 tablespoons olive or canola oil
1 teaspoon salt
1 tablespoon lemon juice or white vinegar
4 tablespoons nutritional yeast
3 jalapeno rings from a jar (optional, for extra spice)
1 garlic clove (optional)
Instructions
Make the chili
Heat the oil in a pan over medium heat and sauté the onion until translucent. Add the leek and peppers and fry for a few minutes. Turn every now and then. Add the diced tomatoes, tomato paste, chili sauce and herbs and let it simmer gently for about 5 minutes. Now add the beans and let it cook for another 5 to 10 minutes. Put a lid on the pan if the sauce boils down too much.
Make the cheese sauce
Bring water to the boil in a pot and cook the potato and carrot pieces for 10 minutes until soft and tender. Drain and transfer the cooked ingredients to your blender jar, along with 60 ml / 1/4 cup of water, oil, salt, lemon juice, nutritional yeast and optionally the jalapeno and garlic. Puree into a nice smooth cheesy sauce.
To serve, spoon the bean and veggie chili onto a large platter (or divide between two smaller plates). Cover with a generous amount of tortilla chips and pour the warm cheese sauce over it. Serve immediately, so that the chips remain nice and crispy.
A Dutch translation of this recipe can be found here.