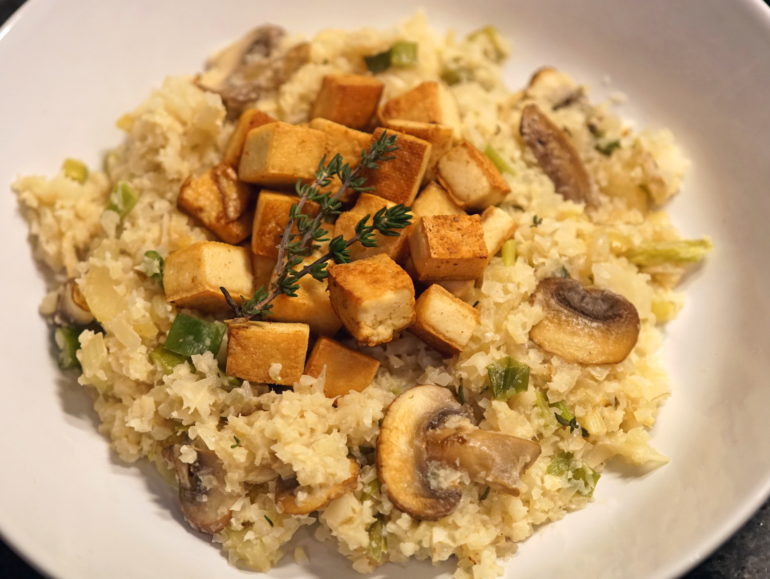 I quite like risotto, but the long cooking time and the white rice keep me from putting it on the menu often. The solution: cauliflower rice risotto! The first time I made this I was a little skeptical, but David and I both loved it! By simmering in the vegan cream and the seasonings, the cauliflower transforms into a deliciously creamy comfort food with a fresh-savory taste, just as risotto should be. Lately, we've been eating this quicker and healthier version of risotto almost every week.
Cauliflower rice is basically just finely chopped cauliflower. You can buy it pre-made, fresh or frozen, but I like to make my own in the food processor. Instead of the florets, I often use the stem and thick leaf veins of the cauliflower, which most people discard. These have a firmer texture and give the risotto a pleasant bite. An average cauliflower will easily give you about 400 g (14 oz) of 'free' leaves and stalks, just the right amount for this recipe. Tear off the dark green leafy bits (you could use these like collards) and chop up the thick white parts. Raw cauliflower rice freezes well, so you can always have some ready to go.
Ingredients
2 tablespoons olive oil
200 g (2 cups) cremini mushrooms or mixed mushrooms, sliced
150 g (1.5 cup) celery or celeriac, diced
2 spring onions or a 10 cm / 3 inch piece of leek, in rings
1 garlic clove, minced
400 g (3.5 cups) of cauliflower rice (fresh or frozen)
1/2 teaspoon dried thyme
1 teaspoon vegetable or mushroom bouillon powder or paste
2 tablespoons nutritional yeast (optional)
100 ml unsweetened vegan cream (homemade or storebought)
100 ml water
1 tablespoon white wine vinegar (or replace water with white wine)
200 g smoked tofu or vegan bacon, cubed
Instructions
Heat the oil in a skillet and sauté the mushrooms and celery until the mushrooms release their liquid and turn golden brown. Add the garlic, spring onions and cauliflower rice and cook for another minute or two.
Add the vegan cream, water (or wine), thyme, bouillon powder and nutritional yeast and bring to the boil. Lower the heat and cover with a lid. Allow the risotto to simmer gently for 10-15 minutes, stirring occasionally. Add some additonal water if the mixture looks too dry. Meanwhile in a second skillet, sauté the vegan bacon or smoked tofu in a little oil.
The risotto is ready when the cauliflower rice and celery are tender. Serve with the bacon.
A Dutch translations of this recipe can be found here.