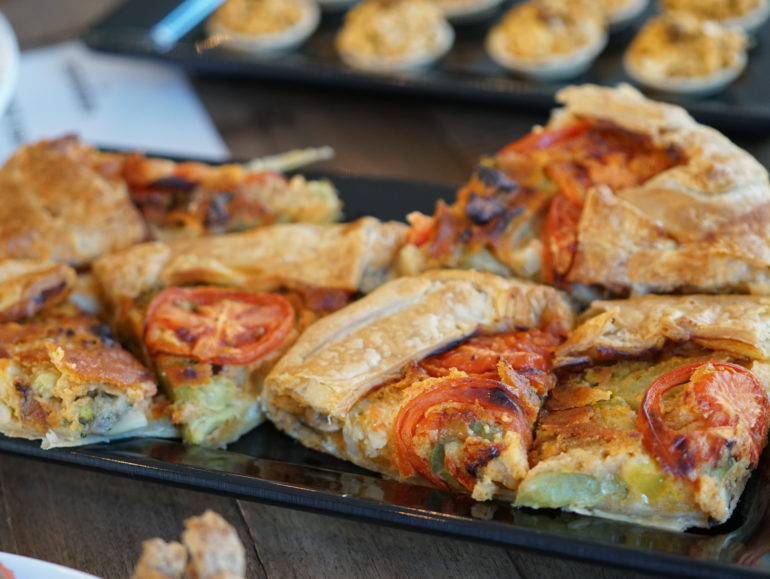 One of the participants of my cooking workshops asked for a quick and easy quiche recipe. For most vegan quiches you have to mess around with tofu and a blender, or you have to cook a thick sauce of chickpea flour as in this super tasty recipe. That's not very difficult, but it might just be a bit too much trouble at the end of a busy day.
That's how I came up with this super easy quiche. I timed myself and he was in the oven in less than half an hour, including cutting vegetables, making batter and putting pastry in the pie tin. Then the quiche needs to bake for half an hour and it's ready to serve! If you want to be even faster, you can use a bag of pre-cut vegetables and throw the dry ingredients of the quiche mix together in advance. If you want to bake quiche more often, you could even make several jars of this mix at the same time, so that on quiche day you only have to take a jar from the cupboard and add water.
This quiche can be made up to two days in advance and served cold or reheated. It makes a nice a lunch for yourself or you can serve it as part of a buffet or potluck if you have guests. You can vary the fillings to suit your preference and what you have on hand. The photo above shows a version with cauliflower and broccoli. During the workshop we used mushrooms and leeks. Both were very tasty!
Ingredients
400 g (1 pound) vegetables of your choice (eg broccoli, cauliflower, spinach, bell pepper, mushrooms)
1 1/4 cup chickpea flour
1/3 cup nutritional yeast flakes
1 teaspoon baking powder
1/2 to 1 teaspoon salt or kala namak
2 teaspoons onion powder
1/4 teaspoon paprika powder
1/4 teaspoon curry powder
1 1/2 cup of water or unsweetened plant milk
1 tablespoon vegetable oil (optional)
Ready to bake vegan puff pastry or pie dough
50 g of grated vegan cheese (optional)
5 cherry tomatoes, halved (optional)
Instructions
Steam or stir-fry the vegetables for about 4 minutes, until they are just tender and set them aside. Preheat the oven to 200 C or 400 F.
Mix the chickpea flour, nutritional yeast, salt and spices in a bowl. Gradually add the water or milk and the oil to create a nice, smooth batter (if necessary, sieve the chickpea flour first, to remove lumps). Mix in the cooked vegetables.
Cover the bottom of a 22 cm pie pan or spring form with pastry dough. Pour the vegetables and batter into the pastry. If you like, sprinkle the top with vegan cheese and halved cherry tomatoes. Bake the quiche for 30 minutes until the filling has solidified and the puff pastry is golden brown. Let sit for 5-10 minutes to cool and set, so the quiche will be ready to serve.