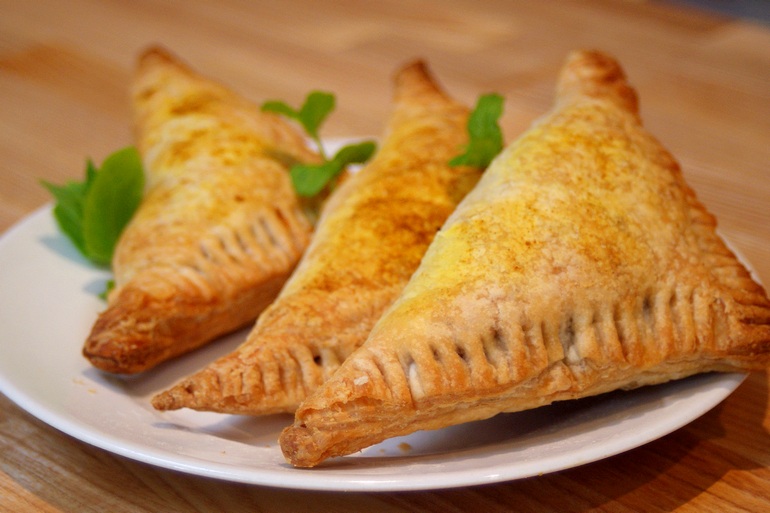 I love bringing these lentil pastries to family gatherings and work potlucks. Even avid meat eaters gobble them up and they are a good high protein option for me and my husband to eat if there are not a lot of other vegan foods to pick from. Be sure to make a big batch, because these things are gone before you know it!
The recipe is a variation on Ethiopian sambusas (a cousin of samosas from India), fried dough with a spicy minced meat filling. I replace the minced meat with lentils. To make it easier on myself I use ready-made puff pastry and bake the sambusas in the oven. Thankfully vegan puff pastry is getting easier to find. If it's not available where you live, homemade pie pastry also works fine.
This recipe makes 10 medium sized pastries. When you eat them as a main course, count on approximately 2 to 3 pastries per person. If you want to serve the sambusas as snacks on a tasting platter, make them smaller by cutting each pastry square in half before filling.
You can serve the sambusas warm or cold. They taste just as good reheated the next day, so feel free to make them ahead of time. In any case, it is useful to make the lentil filling the day before, so that it can cool down and the flavors can develop.
Ingredients
3/4 cup dry green or brown lentils
1 1/2 cups of water
1 1/2 tablespoons of soy sauce (or a teaspoon of marmite)
2 tablespoons olive oil
1 onion, finely minced
3 cloves of garlic, minced
1/2 bunch of spring onions or 1/2 of a small leek, chopped
2 tsp ground cumin seeds
2 teaspoons ground coriander seeds
2 teaspoons cardamom powder
1/4 teaspoon chili flakes
1 pound/ 450 g vegan puff pastry
extra olive oil and curry powder
Instructions
Add the lentils to a pot with the water and soy sauce. Bring to a boil, lower the heat, cover the pan and let the lentils simmer for 30-40 minutes until they are fully cooked and the liquid has been absorbed (be careful not to burn them). They will probably fall apart a bit, and that's fine.
Heat the olive oil in a skillet over medium heat and sauté the onion until translucent. Add the garlic and spring onions and let the mixture cook for a few more minutes. Now also add the spices and sauté them briefly, until fragrant. Remove the pan from the heat and stir the cooked lentils into the onion mixture. Let the lentil filling cool until you can safely touch it.
Remove the puff pastry from the packaging, let it thaw if needed and roll and/or cut it so you have 10 square slices measuring approximately 15 cm or 6 inches. Preheat the oven to 220 degrees and line a baking tray with parchment paper.
Place about 3 tablespoons of filling on the center of each piece of puff pastry. Fold the pastry over so it forms a triangle. Make sure that no filling gets between the edges, because then the pastries will not seal properly. Crimp the edges with a fork to seal, so that they get a nice pattern.
Carefully place the pastries onto the lined baking tray. Brush the top of each with some oil and sprinkle on a little curry powder. Place the tray in the oven and bake the pastries for 20 minutes until light golden brown. Serve them warm or let them cool down and serve them cold. They keep in the fridge for about three days and can be reheated in the oven.