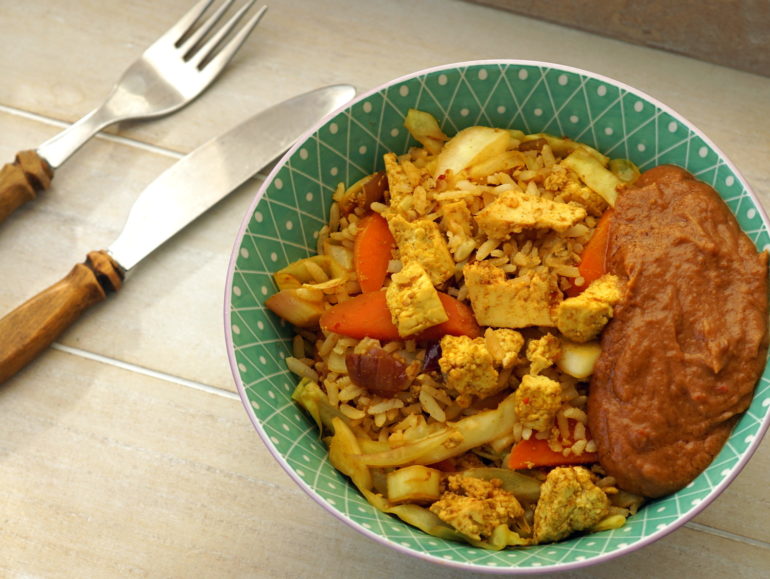 This recipe is a cross between Indonesian style fried rice and tofu scramble. You throw everything together in one large frying pan or wok, so it's super easy and quick to make. The tofu in this recipe stays soft, like the egg in traditional fried rice. Because you crumble it, it easily absorbs the seasonings, so don't worry about it tasting bland.
You can use all kinds of vegetables in this recipe. During our budget challenge, I made it very simple with carrot, onion and cabbage, but it would also be nice to add bean sprouts, bell pepper or bok choy for example. If you want to make it easy on yourself, a bag of pre-cut vegetables is also fine. In addition to the peanut sauce, you could also dress it up some more with typical Indonesian side dishes such as cassava crackers, acar pickles and fried onions.
Depending on whether you have big eaters, this recipe makes 4 to 6 servings. If I shop smart, the ingredient cost about 3 euros, so only 75 cents per person for four large portions!
Fried rice works best with cold rice, because it is a bit firmer. If you happen to eat a rice dish the day before, cook a double batch so that you have the rice ready. If you have not thought that far ahead, you use freshly cooked rice. Add it at the very end, because it gets mushy fast. I prefer to use quick cooking brown rice for this recipe. In terms of taste and texture, it is fairly close to white rice, but contains more nutrients and fiber.
For the peanut sauce
8 tablespoons peanut butter
150 ml (2/3 cup) water
2 tablespoons soy sauce (or kecap manis, and omit the sugar)
1 tablespoon brown sugar
1 teaspoon sriracha or sambal oelek
1/2 teaspoon garlic powder or 1 clove of garlic, minced
For the fried rice
200 g (1 cup) quick cooking brown rice
2 tablespoons oil
600-800 g stir-fry vegetables, cut into strips (onion, carrot, cabbage, bell pepper, bean sprouts, sugar snaps, bok choy, etc.)
400 g (14 oz) firm tofu
2 tablespoons curry powder
1 teaspoon powdered ginger
1 teaspoon ground cumin
1-2 teaspoons sriracha or sambal oelek
2 tablespoons soy sauce or kecap manis
Instructions
Cook the rice according to the directions on the package and let it cool down (skip the cooling if you are short on time).
Make the peanut sauce by putting all the ingredients in a saucepan and heating over medium heat. Stir until it becomes a nice thick thickened sauce. Take care not to let it boil, or the oil may separate. Set aside.
Heat the oil in a large frying pan or wok and stir-fry the vegetables until just tender. If your burner is not very strong, cover the pan with a lid for a few minutes to speed up the cooking.
Cut the tofu in slabs and press them briefly between a tea towel (I just press with my hands for a few seconds). Crumble the tofu over the pan and stir-fry briefly with the vegetables.
Stir in the spices, hot sauce and soy sauce, so the seasonings are well distributed. Lastly stir in the rice and heat through. Taste for seasoning and serve with the peanut sauce.