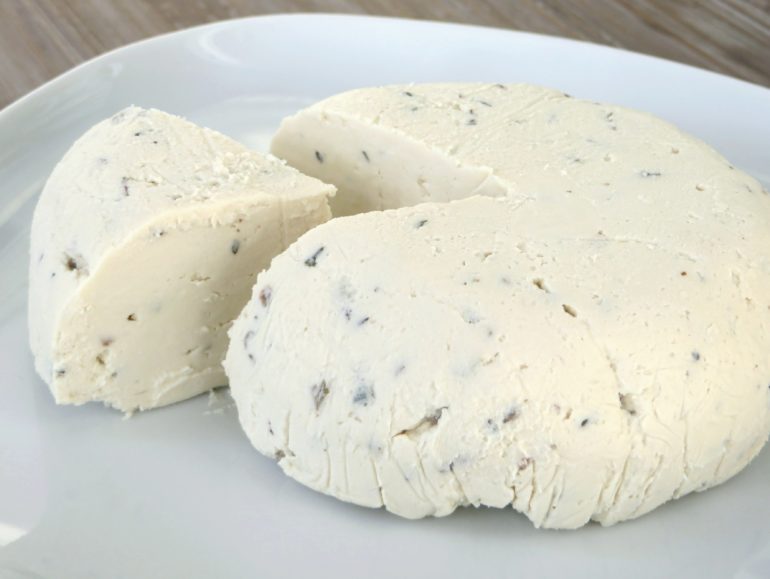 This tofu-based cream cheese is a new favorite. It's like vegan Boursin! It's a really quick recipe too. Just wizz everything in a high speed blender or foodprocessor, dump it into a container and put it in the fridge overnight to firm up. No long fermentation or hard to find ingredients. It's a staple in my cooking workshops and all the participants love it, vegans and omnis alike. A real winner!
The tofu and cashews make this cream cheese quite nutritious. It's higher in protein and lower in carbs than Tofutti. It also has less sodium and lots more useful nutrients like calcium and other minerals. It tastes good on bread or crackers, but I also really like to use it in hot dishes like pastas, soups and casseroles.
Ingredients
250 gram (9 oz) firm tofu
1/2 cup unroasted cashews, soaked for at least 4 hours
1 clove of garlic
1/2 teaspoon salt
1/3 cup neutral tasting coconut oil, melted
1/4 cup white vinegar or lemon juice
1/4 cup water
1/2 teaspoon dried thyme
1 teaspoon dried oregano
Instructions
Cut the tofu into slices and press them between two clean towels with your hands to get rid of the nasty tasting tofu liquid. Drain the cashews and put them into the jar of your high speed blender, foodprocessor or immersion blender, together with the pressed tofu, garlic, salt, coconut oil, vinegar and water. Blend until it forms a completely smooth mixture. Depending on the strength of your device, this can take a few minutes. If necessary, add a little extra water the mixture is too stiff.
<! - / wp: paragraph -> <! - wp: paragraph ->
Taste the cheese and blend in some extra garlic, salt or vinegar if you like. Stir in the thyme and oregano (you do this now, because it is nice to have whole herbs in the cheese, rather than pureed).
<! - / wp: paragraph -> <! - wp: paragraph ->
Cover a bowl with plastic wrap and pour in the cheese mixture. Smooth out the cheese and cover it with a lid. Let the cheese set up in the fridge for at least 8 hours (if you are in a hurry it can also be put in the freezer in 2 hours). It will now be firm enough to take out of the bowl, remove the plastic wrap and put it on a plate. In a sealed container, the cheese will keep for about two weeks in the refrigerator.
<! - / wp: paragraph ->