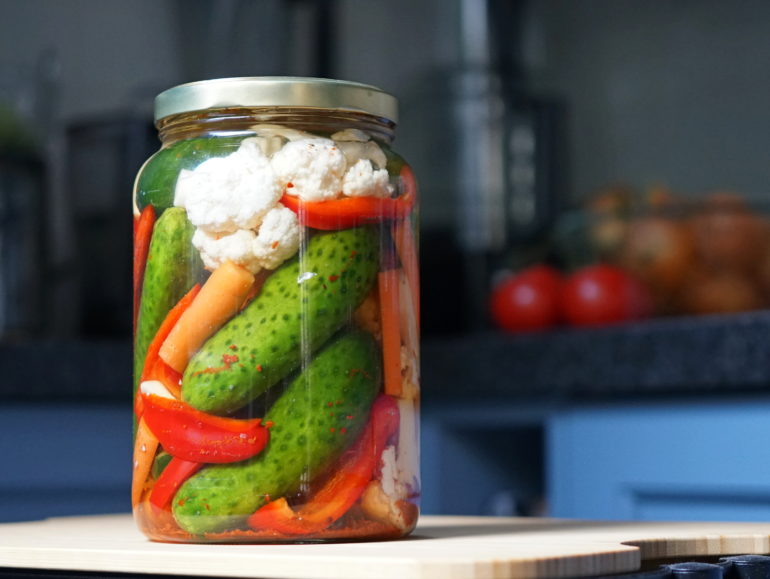 Two years ago, my mother-in-law's Turkish neighbor gave us a large jar full of fermented pickles (tursu). She grows the vegetables herself on her balcony and pickles them in the traditional way. David and I liked the flavor so much that I now regularly make my own tursu. Fortunately, it is not difficult at all, although my gardening skills are not yet so good that I also grow the vegetables myself.
You can use all kinds of vegetables. Traditionally, tursu uses gherkins, (green) tomatoes, green and red long peppers, carrots, cauliflower and white cabbage. I also really like to add green beans. Gherkins are a bit difficult to get fresh in the Netherlands, but at the end of the summer you can sometimes find them at Polish and Turkish shops.
The vegetables ferment for a few days at room temperature in salted water, so that they get a nice acidic taste. The salt ensures that they do not go bad (see my sauerkraut recipe for more information). Specific to tursu is that you also add some vinegar. This contributes to the delicious flavor and helps keep the vegetables nice and firm.
Ingredients
1 kg (2 pounds) of firm vegetables of your choice (gherkins, green tomatoes, green beans, Turkish peppers, carrots, cauliflower, white cabbage)
5 garlic cloves, halved
500 ml (2 cups) of water
30-45 g (2-3 TBS) salt
100 ml (1/2 cup) white vinegar
1 large 2-3 liter pot or 3-4 smaller pots
Preparation
Wash the vegetables and cut them into large pieces. The gherkins are best left whole. Pack the vegetables carefully in your pot(s), so that there is as little empty space as possible. Pack the halved garlic cloves in between. Press everything firmly, but make sure that the vegetables are not crushed.
Mix the water with the salt and vinegar and pour this over the vegetables until they are completely submerged. Add a little more salted water if the vegetables are not submerged. Cover the jar with a loose lid or cloth and set aside at room temperature.
Now let the vegetables ferment for 3-7 days. The water will bubble and the vegetables will develop a sour flavor. Once the acidity of the vegetables is to your liking, move the jar to the refrigerator. Preferably leave the vegetables here for another week, so that the flavors can develop further. The vegetables can now be stored in the refrigerator for about 3 months.