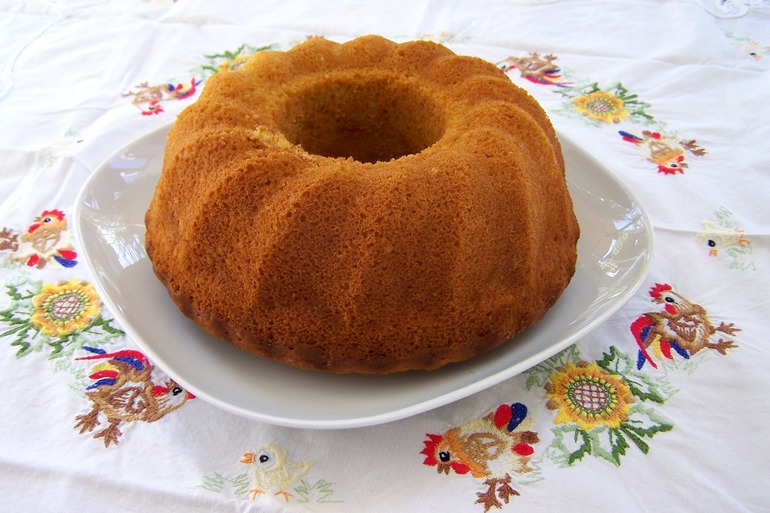 This is one of the lightest and airiest vegan cakes I've ever tasted! The recipe is surprisingly easy, making it suitable for both inexperienced and seasoned bakers. Even your omni mother in law can make it with stuff from her cupboard, since no 'special' vegan ingredients are required. The batter is made with orange juice instead of plant milk and corn starch is used as an egg replacement.
The scent of the cake reminds me of orange ice cream popsicles, because of the combination of orange juice and vanilla. The batter is so delicious, you'll definitely want to lick the bowl clean.
Mr. Vegan Test Kitchen's grandma gave me some lovely old tablecloths to take pictures with. I thought the happy embroidered chickens are very appropriate for this delicious cake without egg. For the picture I made a Bundt cake, but you could also use a 22 cm round cake tin, or even a rectangular pan.
Ingredients
2 cups (260 g) all purpose flour
2 tablespoons corn starch
3 teaspoons baking powder or 1 tsp baking powder and 1 tsp baking soda
1/4 teaspoon salt
1 cup (200 g) cane sugar or white sugar
1 1/2 cup (360 ml) orange juice (from a box or fresh)
1/2 cup (120 ml) canola oil or mild olive oil
1 tsp vanilla extract
1 teaspoon grated orange peel (optional)
Instructions
Preheat the oven to 180 C or 350 F. In a bowl, mix the flour with the cornstarch, baking powder and salt. Put the sugar, orange juice, oil, vanilla extract and grated zest in another, larger bowl and stir until the sugar dissolves. Now add the flour mixture to the orange mixture and stir briefly with a whisk until everything is combined, but don't overmix. It's okay if there are still some lumps in the batter.
Pour the batter into a greased Bundt pan or 22 cm / 8 inch  cake tin. Place the cake on the rack in the middle of the oven and bake for 30 to 35 minutes. Allow the cake to cool completely in the pan (don't skip or the cake will break!), and then turn it out onto a plate.
If you like, decorate the cake with icing made from powdered sugar and a little lemon juice.
A Dutch translation of this recipe can be found here.