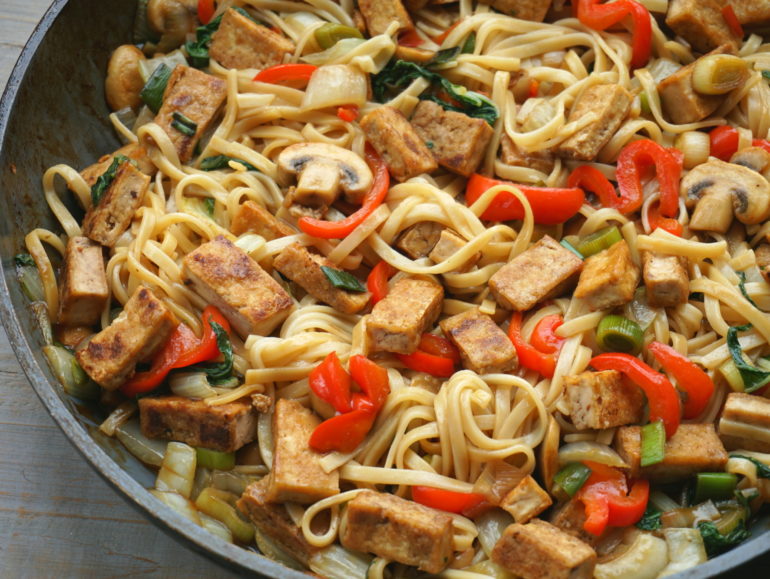 I almost never use recipes for my stir fries anymore. So thought I'd share my super simple general method, that you can make endless variations on. For example, replace the tofu with vegan chicken pieces or chickpeas, choose other vegetables (cabbage, broccoli, leeks, carrots etc.) and change up the sauces. Your stir fry can be on the table in under half an hour.
I use one of my favorite ways to prepare tofu here. Just sauté the tofu in a skillet, without marinating it first. Once crispy, the tofu absorbs part of the sauce, making it tasty and chewy. Super fast and simple.
This recipe makes about four servings. It reheats surprisingly well, so even if I'm just cooking for David and me, I usually make the full amount so that we can eat the leftovers later in the week. To make cooking even faster and easier, feel free to replace the onion, bell pepper, mushrooms and bok choy with 2 pounds of pre-cut or frozen vegetables.
Ingredients
250 g (9 oz) noodles or rice, I prefer whole grain
3 tablespoons oil
400 g (14 oz) firm tofu, pressed and cubed
1 onion or leek, chopped
1 red or yellow pepper, in strips
250 g (9 oz) mushrooms, in slices
1 bunch bok choy, in slices
3 cloves garlic, minced
3-4 tablespoons soy sauce, hoisin or another stir-fry sauce
1 teaspoon sriracha or sambal (optional, if you like spicy)
1 tablespoon cornstarch, mixed with 150-200 ml of water (optional, for a glossy sauce)
1 tablespoon toasted sesame seeds (optional)
Instructions
Bring salted water to the boil in a pan and prepare the noodles or rice according to the directions on the package.
In your largest skillet heat 2 tablespoons of oil on high heat and sauté the tofu until all sides are golden brown and crispy. Remove the tofu from the pan and set aside.
Heat the remaining tablespoon of oil and stir-fry the onion and bell pepper on high heat until the onion turns translucent. Add the mushrooms, bok choy and garlic and stir-fry a little longer until these vegetables are tender.
Turn down the heat. Return the fried tofu to the pan and sprinkle on the sauce of your choice and sriracha if using. Mix the vegetable mixture well so that everything is covered with a thin layer of sauce.
If you like, you can now dissolve the cornstarch in cold water in a small bowl and pour this into the pan and heat through. This makes a nice glossy sauce, just like you get at Chinese restaurants.
Divide the noodles or rice over four plates and top with the saucy stir-fried vegetables. Sprinkle with the optional sesame seeds and serve.