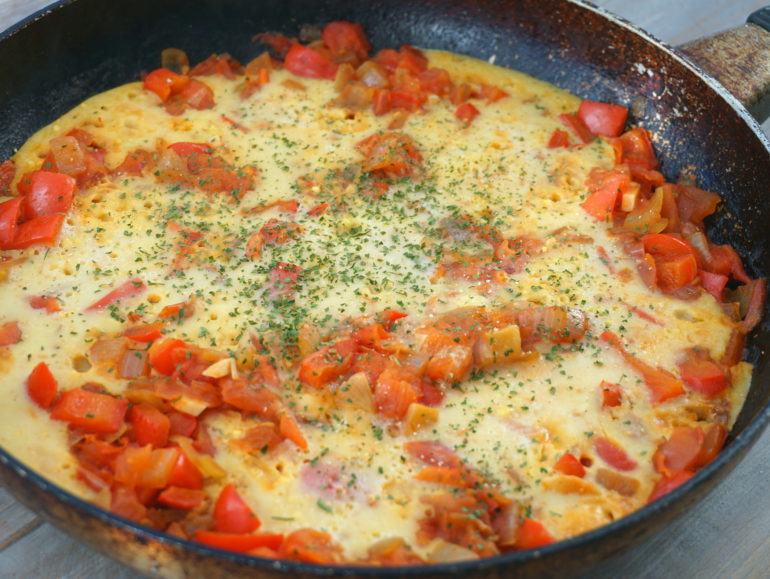 Vegan shakshuka is a new favorite in our house. This Mediterranean dish of onion, pepper, tomato and egg is super easy to make plant-based if you replace the egg with a batter of chickpea flour. You can serve it for breakfast, lunch or even dinner. It is super fun to have as part of a fancy brunch.
You can play around with the ingredients and make lots of variations. For example, add eggplant and use more or fewer herbs. I like it when the chickpea 'egg' stays a bit soft and creamy, so I use a lot of water in the egg batter. If you want firmer egg, use 1/4 cup less water. If you want to make the shakshuka extra protein-rich and filling, add some white beans, lentils or vegan meat crumbles to the sauce.
Ingredients
1 tablespoon olive oil
1 large onion, chopped
2 cloves garlic, chopped
2 red or green bell peppers, in strips
4 large ripe tomatoes, diced (or use a can of crushed tomatoes)
cayenne pepper, cumin, black pepper, parsley and salt to taste (optional)
1/2 cup (50 g) chickpea flour
2 tablespoons nutritional yeast
1/4 teaspoon of salt or kala namak
1 tablespoon lemon juice
1 cup (250 ml) of water or unsweetened plant milk
2 (whole-grain) pitas or toasted bread slices
Instructions
In a large skillet, fry the onion, garlic and bell pepper in the oil until the onion starts to turn translucent. Add the tomatoes and let it simmer for about five minutes until the vegetables are tender and form a thick sauce. If necessary, add a splash of water if the vegetable mixture is too dry. If you want, you can further season the vegetables with cumin, pepper and salt, but you can also leave it seasoned.
Meanwhile, make the 'egg' by mixing the chickpea flour with nutritional yeast and salt. Add half of the water and stir until all the lumps have dissolved. Now add the other half of the water and lemon juice and mix into a nice thin batter.
Make indentations in the vegetable mixture with a large spoon. Pour a few tablespoons of chickpea batter into each indentation. Put a lid on the pan and let the shakshuka simmer for about 7 minutes over medium heat until the batter is set (do not stir!). Serve with toasted bread.