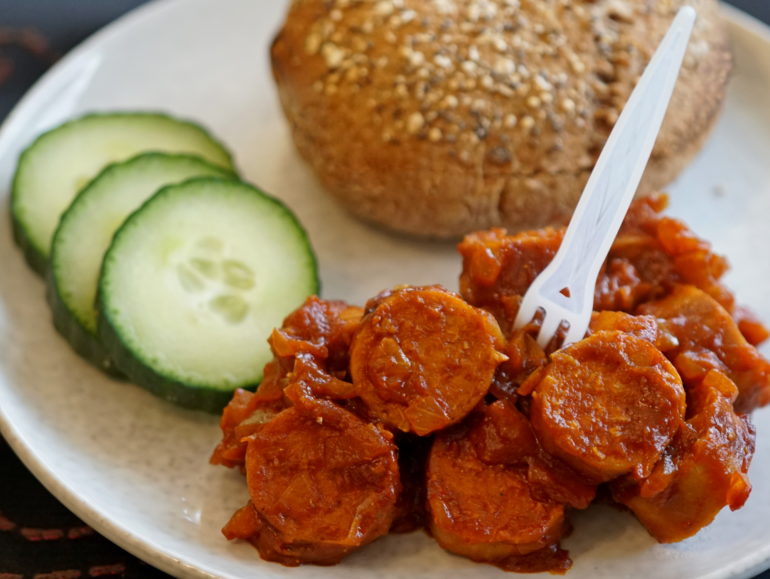 This vegan currywurst (sliced bratwurst in a curried tomato sauce) takes my mind straight to Berlin in Germany. The city has currywurst stands on almost every square and in every train station and shopping center. The last time I visited in 2019, many of those places offered a vegan option! It was lovely, and especially during the current lockdown I would love to be there again, strolling around and enjoying a hearty plate of currywurst.
Traveling is not really an option right now, but thankfully currywurst is actually really easy to make at home. You probably already have most of the ingredients on hand, so you just need to find some vegan bratwursts. I used Vivera brand this time, but I bet it would also be really good with the Beyond sausage or my homemade seitan-seaweed sausages.
Serve your currywurst with fries or bread and possibly a salad to make it a complete meal.
Ingredients
4 vegan bratwursts, store-bought or homemade
1 medium onion
1 tablespoon of tomato paste
2 tablespoons of oil
125 grams of ketchup
1-2 tablespoons of balsamic vinegar
1 tablespoon of soy sauce
1/2 teaspoon sambal or sriracha sauce
1 tablespoon curry powder
Instructions
Heat 1 tablespoon of oil in a skillet and sauté the vegan sausages until they are golden brown on all sides. Meanwhile, finely mince the onion.
Remove the sausages from the pan and allow them cool a little. Then cut them into slices.
Meanwhile, sauté the onion in the second tablespoon of oil. Add the tomato puree, sauté it for a minute longer and deglaze with a splash of water. Now also add the ketchup, balsamic vinegar, soy sauce, sambal and curry powder. Turn down the heat at allow to simmer for a few minutes. Taste the sauce and add some more of the seasonings if you like. If the sauce is too thick, add a splash of water.
After the sauce has simmered, add the sliced ​​sausages back in and allow them to heat through. For decoration, sprinkle on a little extra curry powder when serving.
A Dutch translation of this recipe can be found here.