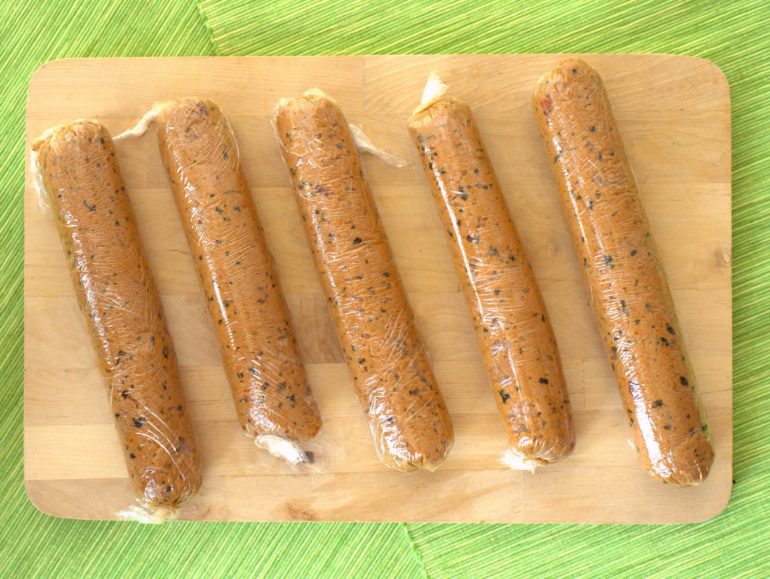 In Holland, we have a famous vegan company called 'the Dutch Weedburger'. The 'weed' in their burgers is seaweed and it's totally delicious. Recently they also started making seitan sausages with seaweed in them. It sounds weird, but the seaweed adds a delicious savory note, without making the sausages overly fishy. I liked it so much that I added some seaweed to my own sausages and it turned out really nicely. However, if you don't have seaweed or don't like it, you can leave it out and the sausages will still taste really good.
These sausages are more moist and tender than your average seitan sausage. When you make the dough, it may seem too wet, but that's exactly how it's supposed to be. After steaming and cooling in the fridge they will be firm but still nice and juicy. They taste best fried up in a little oil. Eat them in stews, sandwiches or salads. 
Ingredients
1 cup vital wheat gluten
1/4 cup nutritional yeast
3 tablespoons chickpea flour
2 teaspoons sweet smoked paprika
1 teaspoon ground fennel
1 teaspoon garlic powder
2 teaspoons onion powder
1 tablespoon dried wakame flakes or 1/2 nori sheat, shredded (optional)
1/2 teaspoon salt
1 1/4 cup water
1 tablespoon oil
2 tablespoons soy sauce or coconut aminos
1 tablespoon miso (sub additional coconut aminos if soy free)
1 tablespoon ketchup
Instructions
In a bowl, mix the wheat gluten with the chickpea flour, spices, seaweed and salt. Add the water, oil, soy sauce, miso and ketchup. Mix with a spoon and later with your hands until a wet dough forms.
Prepare 3 to 5 sheets of microwave safe plastic wrap or aluminium foil and place a sausage shaped piece of dough on each sheet. Roll up the sheets tightly so the sausages snap into shape and twist the ends closed like a tootsie role.
Bring water to a boil in your steamer pot (or improvise a steamer with a regular pot and a colander). Steam smaller sausages for 30 minutes and larger ones for 45 minutes until they are firm to the touch. Let the sausages cool down and firm up more. They keep about 4 days in the fridge or 3 months in the freezer. You can eat them as is, but they taste a lot nicer when browned in a little oil.