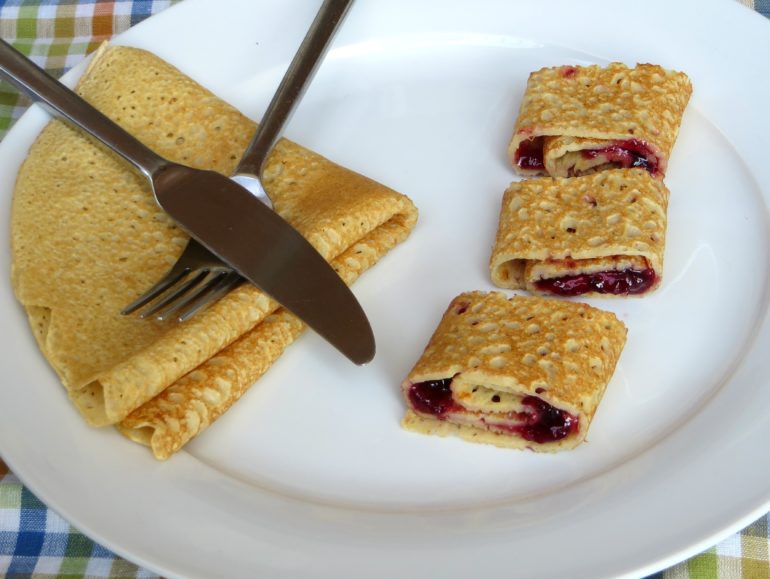 We already have a traditional Dutch crêpe or pancake recipe on the site, so I wanted to show you how to make a gluten free version. The combination of rice flour, chickpea flour and buckwheat flour (or teff) creates very tasty crêpes that are fairly easy to make. They do not stick to the pan and are easy to turn over, which can sometimes be a problem with egg-free gluten-free crêpes.
If you use brown rice flour, they are completely whole grain, without having an overly strong whole grain flavor. They are high in protein, iron, zinc, B vitamins and other good stuff. Even after cooling, the crêpes stay nice and supple, so you can make some extra for lunch the next day. If you make them nice and thin, they are even suitable for use as wraps, stuffed with hummus and vegetables for example.
Ingredients
2/3 cup (100 g) brown or white rice flour (not glutinous rice flour)
2/3 cup (100 g) chickpea flour
2/3 cup (100 g) buckwheat or teff flour
1 teaspoon salt
1 cup (240) ml non-dairy milk
1 1/2 cup (360 ml) water
1 tablespoon oil to grease the pan
Preparation
Preheat a good non-stick skillet over high heat. In a bowl, combine the rice flour, chickpea flour, buckwheat flour and salt. Preferably pass the chickpea flour through a sieve to break up any lumps. Gradually mix in the milk and water with a whisk until you have a nice smooth batter.
Add the oil to the skillet and spread it with a folded piece of paper towel. Save the greased paper towel for the next pancake. Pour a ladle of batter (about 1/2 cup) into the pan and turn the pan at an angle so that the batter spreads into a nice thin crêpe. Some tiny wholes will appear and that's fine.
Let the batter cook for a minute or two and then carefully check with a spatula under the edge whether it has released and is turning brown. Be patient, it may take a while for the crêpe to be ready to be flipped, especially the first time, when the pan may not be hot enough yet. Carefully loosen the crêpe with the spatula and flip it over. Let the other side cook for another minute until it also has brown spots and move the crêpe to a plate. Grease the pan again and continue making crêpes and stacking them onto the plate until the batter is used up.
Serve the stack of crêpes with your preferred toppings. Traditional options include jam, syrup, brown sugar, Nutella and fresh fruit. A savory filling is also nice, for instance use sautéed onion, mushrooms and spinach with some vegan cheese or sour cream.
A Dutch translation of this recipe can be found here.