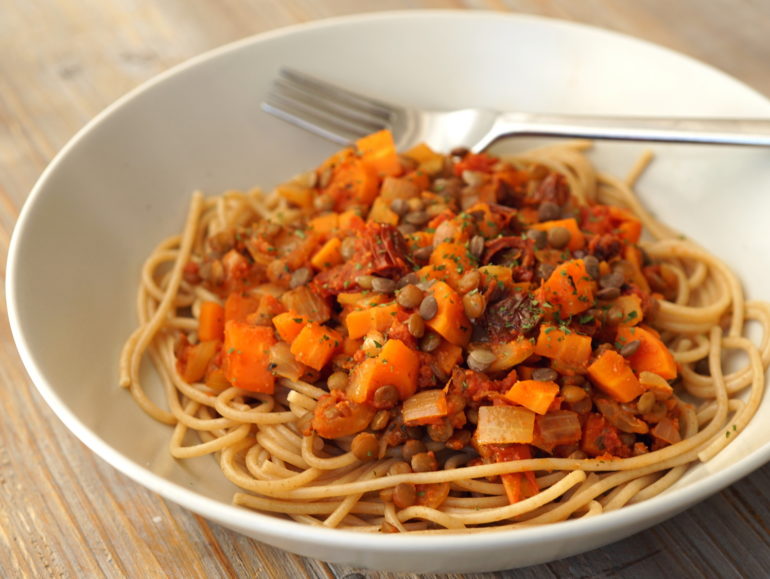 This is a recipe for the ultra-low budget menu that I'm working on. The ingredients cost me about 2 euros for 4 generous servings, so only 50 cents per person!
For such a humble recipe, this is a surprisingly tasty dish. The star of the show is the sun-dried tomato, which provide lots of umami, so you don't need vegan cheese for a nice savory flavor. The carrots make this dish a good source of vitamin A, which vegans sometimes don't get enough of.
If you're not a fan of carrots, you sub bell peppers and zucchini, or some other veggies of your choice. Instead of the lentils, you can also use tvp granulate or plant-based mince. For a gluten free option, use gluten free pasta.
This pasta is ready within half an hour, so it's pretty quick too! It also reheats well and keeps a few days, so it makes a good meal prep item. I like to make the full four servings, so David and I can get two dinners out of it, or I can eat the leftovers for lunch.
Ingredients
250-300 grams whole-wheat spaghetti (or gluten-free pasta)
2 tablespoons oil
2 large onions, chopped
300 grams carrots, diced small
400 g (14 oz) canned diced tomatoes
3-4 tablespoons tomato puree (optional)
2 garlic cloves, minced
1-2 teaspoons Italian herbs (or mix basil, oregano and thyme yourself) li>
1/2 teaspoon salt
1 1/2 cup (1 can) cooked brown lentils
8 pieces sun-dried tomatoes in oil, diced small
Instructions
Cook the pasta according to the instructions on the package.
In the meantime, heat the oil in a skillet and sauté the onion and carrot, stirring, until they are al dente and are starting to get a little color.
Add the diced tomatoes, garlic, herbs and salt. Cover with a lid and simmer the tomato sauce for another five minutes until the carrots are fully cooked. Add a splash of water if the sauce becomes too dry.
Add the lentils and sun-dried tomatoes and heat everything through. If you want a thicker sauce, puree 1/3 with an immersion blender. Mix in the pasta and serve.