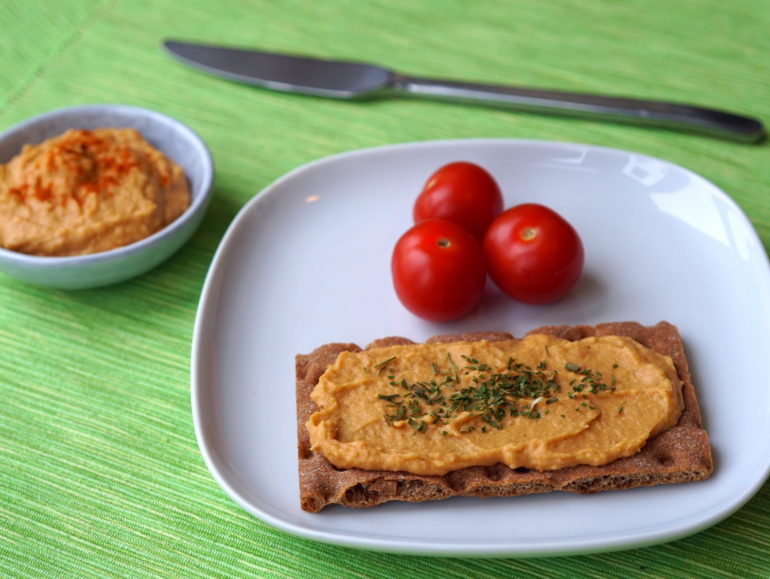 Previously I wrote about umami, the fifth basic flavor that humans can taste in addition to sweet, sour, salty and bitter. In this post I will share a second recipe packed with umami, namely umami hummus!
The flavor of this spread is vaguely reminiscent of aged cheese. The paprika provides a subtle smoky flavor. It is delicious as a sandwich spread or with crackers and vegetables for dipping. I think it also makes a good pasta sauce, combined with spinach or broccoli for example.
This recipe was inspired by the 'Best sandwich spread ever' from Julie Hasson. She used cashew nuts as a base. My bean-based version is cheaper and also faster, because you don't have to pre-soak the nuts.
I prefer to use white beans, because they get super creamy very easily (see my recipe for white bean hummus). If you use chickpeas, first heat them briefly in a pan or in the microwave. Warm peas are much easier to puree than cold ones.
Ingredients
1 can (240 grams or 1 1/2 cup) of white beans or chickpeas, drained
4 tablespoons light miso
3 tablespoons nutritional yeast flakes
2 tablespoons of vinegar or lemon juice
2 tablespoons olive oil or tahini (optional, you can omit this for a low-fat spread)
1/2 teaspoon onion powder
1/2 teaspoon garlic powder
1/2 teaspoon smoked paprika
1 teaspoon mustard
Instructions
Put all the ingredients in the mixing bowl of your food processor or blender. Puree until smooth. Add a splash of water if the mixture seems is too thick or crumbly, but make sure it does not get too wet.
Taste the spread and adjust the flavor to you liking. The spread is now ready to eat, but the flavor will improve if given some time to rest. It keeps for about five days in the refrigerator. You can also freeze it.