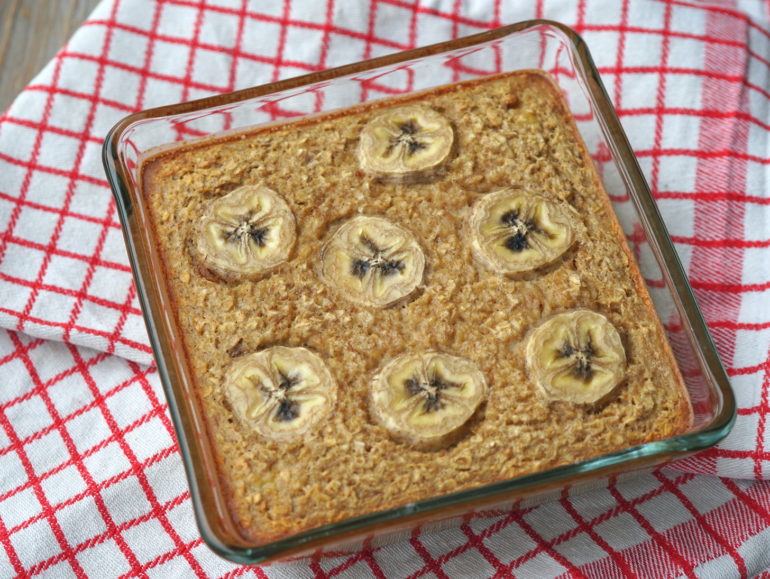 I like to eat hearty oatmeal for breakfast, but I don't always have time to make it in the morning. Baked oatmeal to the rescue! Make a big casserole dish full and you'll have a whole week's worth of breakfast ready to go. Perfect if you like meal prep.
This oatmeal is so firm that you can easily cut it into bars and take it with you for breakfast on the go or as a snack. There is no added sugar, only the sweetness from the fruit. I eat it cold or reheated in the microwave, with some coffee or a glass of soy milk. Yum!
The recipe below makes two or three servings, depending on your appetite. It's very filling. You can easily double or triple the recipe if you want to make more.
You can make endless variations on this recipe. Substitute the banana with applesauce, use yogurt instead of milk, add other spices (ginger, turmeric, cardamom?), use fresh or frozen berries instead of raisins, add grated carrot or zucchini, etc.
If you're in a hurry, you can also make this recipe in the microwave. Use a microwave-safe dish, cover with plastic wrap or a lid to prevent splashing and heat the oatmeal on the highest setting for 3-4 minutes. It will then look a little less pretty than baked oatmeal, but it will be just as tasty.
Ingredients
1 cup (100 g) oatmeal
1 large or 2 small ripe bananas, mashed (reserve a few slices for decoration if you want)
1 cup (240 ml) plant-based milk
1 handful (30 g) raisins
1-2 tablespoons peanut butter
Instructions
Preheat the oven to 180 C / 350 F. Mix all ingredients together in a bowl so they are evenly distributed. Keep some lumps of banana and peanut butter, like little flavor pockets in the oatmeal. Transfer the batter to a small baking dish and decorate with the remaining banana slices.
Put the dish in the center of the hot oven and bake for 25 minutes until the oatmeal has firmed up and is starting to brown slightly on top. Take it out and set aside to cool down. You can eat the oatmeal now, or save it for later. It keeps in the fridge for up to four days. You can also freeze it.