| | |
| --- | --- |
| Tags: | Kid friendly |
| Preparation time: | preparations 30 minutes, cooking 25 minutes, total 55 minutes |
| Makes: | 6-8 servings |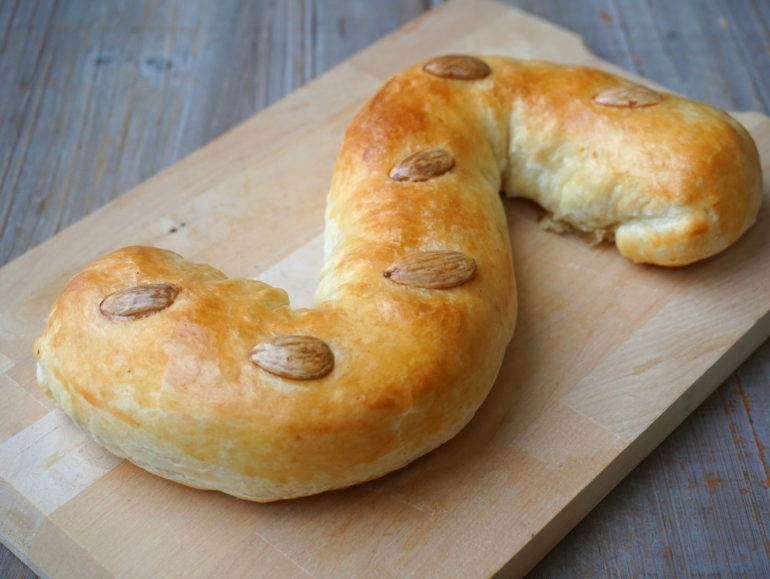 This 'banketstaaf' or almond letter is one of my favorite Dutch holiday treats. It's a crispy puff pastry roll stuffed with almond paste. Delicious! There's also a version of this where the almond paste is encased in speculaas dough (similar to gingerbread and biscoff).
Almond letters are traditionally eaten during the winter holiday season, especially for Sinterklaas (Dutch Santa Clause) and Christmas.
They usually contain dairy, but if you have access to vegan puff pastry, it's very easy to make a vegan version. If you have access to readymade almond paste go ahead and use that, but I included instructions to make it from scratch for those who don't. It's best to make the almond paste ahead of time so it can firm up and is easier to work with.
You can give your letters a personal touch, for instance by shaping them into the first letter of a loved one's name. You can also make several small bars to hand out as holiday gifts. If you like, you can incorporate your favorite spices in the filling.
Ingredients
100 g (3.5 oz or 1 cup) almond flour
100 g (3.5 oz or ½ cup) sugar
2-3 tablespoons water
300 g (10 oz) almond paste, in cubes
1-2 teaspoons lemon zest
1-2 tablespoons plant milk (if needed)
holiday spices such as cinnamon and / or cardamom, optional and to taste
150 g (5 oz) vegan puff pastry
8 blanched almonds (optional)
2 tablespoons soy milk
Instructions
Make the almond paste by mixing the almond flour and sugar and adding just enough water to shape it into a dough-like mass. Refrigerate the almond paste until ready to use. It's best to do this at least a few days before you plan to make the letter.
Preheat your oven to 200 C / 400 F. Knead the lemon zest into the almond paste. If the paste is very stiff, add in 1-2 tablespoons of plant milk to make it more pliable. Shape the kneaded paste into a long snake with a 3 cm / slightly over 1 inch diameter.

Cut or roll out the puff pastry into a thin rectangular sheet that is slightly longer than your almond snake and wide enough to encompass it with a little overlap.
Carefully fold the puff pastry around the almond snake. Make sure not to trap any air bubbles between the dough and the paste. Press the seam of overlapping dough closed with your fingers. Also fold in the dough flaps at the ends. You can keep the roll straight or shape it into a letter.
Place the roll seam side down on a baking sheet covered with parchment paper. Press the almonds into the top of your letter and brush the it with soy milk, to give it a nice gloss. Bake it for about 25 minutes until it turns golden brown. For extra shine, you can take it out of the oven ten minutes before the end of the baking time and brush it with soy milk a second time. Allow to cool and cut into 1 inch slices to serve.